TY girls, I remember TY Girlz. Back when Moxie Teenz were still in stores someone realised they could fit into TY Girlz clothing, so i'm sure there was a random surge in sales of those strange plushie fashion dolls.
The TY Girlz (Who the hell decided a Z was edgy and cool?) were a line of  14 inch tall plush dolls with removable fashions (but sewn on shoes... kinda defeating the point but there ya go). They had rooted brushable hair, stitched on eyes and no noses.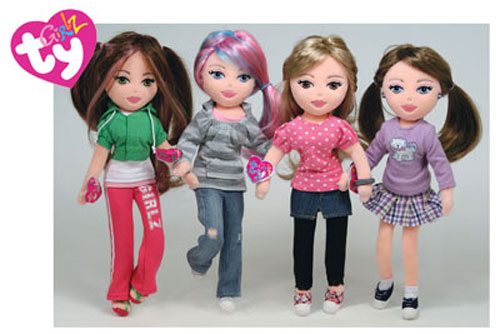 They had internal wires so they could be posed, but honestly these things kinda freaked me out and I thought they were super ugly.
However, they did have some nice clothes. And at the time Moxie Teenz came out, TY Girlz were hitting the clearance bargain bins. A couple of quid for a full outfit seemed a good deal to me, and so a lot of these things came home with me.
(For the record, the shirts fit Moxie Teenz pretty well but Teenz have narrower waists, meaning a lot of pants and skirts are a bit loose. Nothing some alterations couldn't fix i'm sure though, and given the crappy selection of Moxie outfits, these tops were a great help. The shirts also fit, albeit baggily on barbie sized dolls.)
Anyway,
for some reason TY decided to move away from creepy plushie fashion rag dolls and instead turn these characters into small plastic toddler dolls, similar to Barbie's little sister Chelsea.
These are the TY Li'l ones.